본문내용
isaig@hanmail.net
KAKAO ID : life5050
---
미국학교별 보험조건 바로가기
학교명을 클릭하면 보험조건을 확인 하실 수 있습니다.
Northwestern University
보험 면제 조건
Coverage Criteria

pediatric services
Routine, non-emergency care, in addition to emergency care, in the Chicago area – must have local access to in-network providers.
If you will be studying abroad, or out of the Evanston area, routine / emergency care – and all coverage requirements noted here – must be provided in the local area where you will be studying / residing.
All "essential health benefits" per the Affordable Care Act (ACA) – see details below.
No exclusions for pre-existing conditions, or any waiting periods for pre-existing conditions applied before coverage is active.
Active coverage from the day you arrive on campus either through August 31, 2019, or the end of your academic program (whichever comes first).
A claims administrator based in the U.S., and a U.S. telephone number and address for submission of claims; in addition, the insurance policy must have been issued within the U.S.
Coverage for medical evacuation and repatriation expenses:
Required if you are an F1 or J1 student (no exceptions).
If you are a domestic student (or have a different visa status than noted above), required if you will be studying / traveling / doing research outside of the United States during this academic year.
Annual out-of-pocket maximum equal or less than $7,350 for individual insurance plans or equal or less than $14,700 for family insurance plans.
Download the 2018-2019 Comparable Coverage Checklist (PDF) to help you determine if your insurance plan's benefits meet NU's waiver requirements.
Please note: per University policy, international students – students holding a J-1 or F-1 U.S. visa – may not waive enrollment in the NU-SHIP.
Essential Health Benefits, per the Affordable Care Act (ACA)
In addition to the criteria noted above, all alternate insurance plans must include the following benefits, as required by the ACA:
preventive services, wellness services, and chronic disease treatment
outpatient care (ambulatory patient services)
emergency services
hospitalization (treatment for inpatient care)
inpatient & outpatient mental health services and addiction treatment
prescription drug coverage
rehabilitative services and devices
laboratory services
maternity and newborn care
pediatric services​
https://www.northwestern.edu/ses/students/health-insurance/SHIP_Instructions_for_Waiving_NU_Student_Health_Insurance.pdf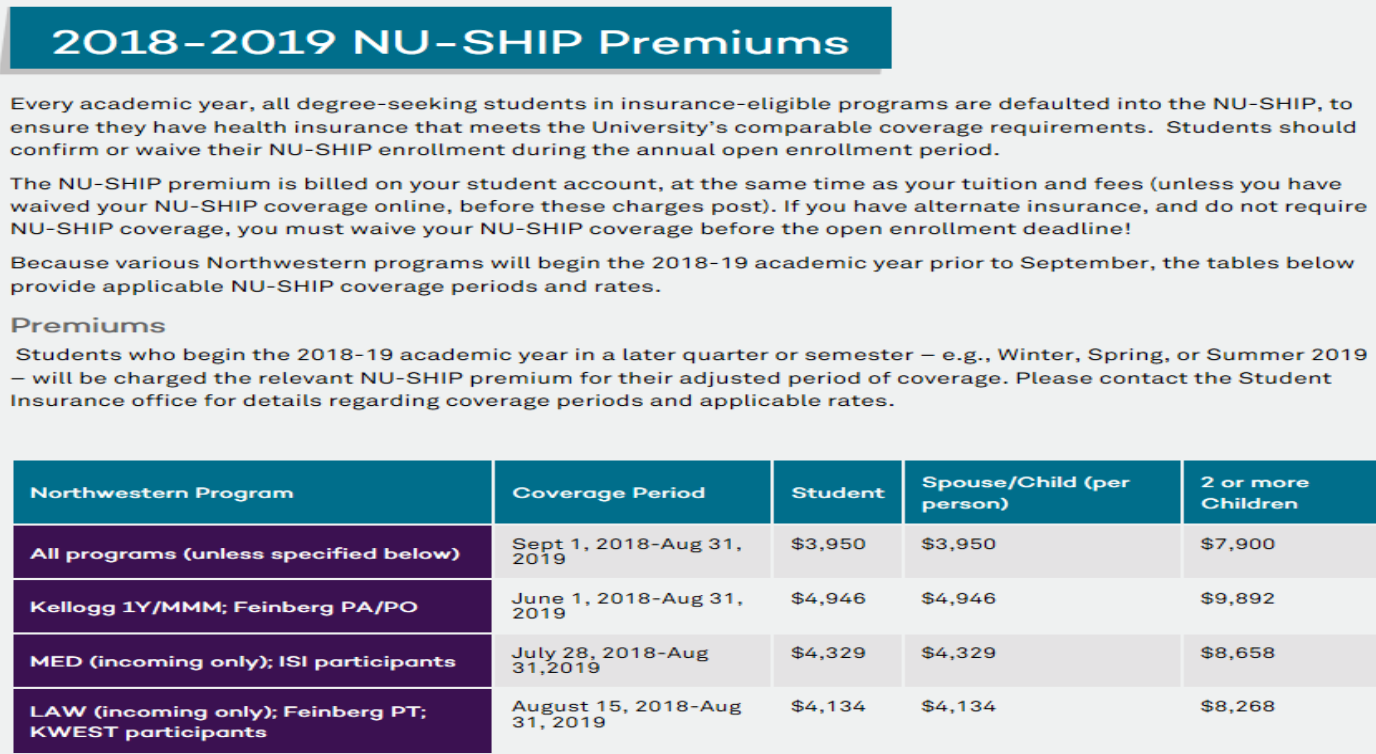 Northwestern Policy Regarding Health Insurance
Student Health Insurance (NU-SHIP)
Health Insurance is a requirement for all degree-seeking students at Northwestern University. The Student Health Insurance office is here to assist students in making appropriate insurance selections for their health care needs.
You can fulfill the insurance requirement by:
Please contact the Student Health Insurance office with any questions related to Northwestern's insurance requirements or annual NU-SHIP confirmation/waiver process; comparable coverage requirements for alternate insurance plans; NU-SHIP plan benefits; or for assistance completing the online Coverage Selection Form.
Phone – Evanston campus: 847.491.3621; Chicago campus: 312.503.1242
Email – student.insurance@northwestern.edu
Website - http://www.northwestern.edu/student-insurance/
건강 보험에 관한 노스 웨스턴 정책
​
학생 건강 보험 (NU-SHIP)
​
건강 보험은 Northwestern University의 모든 학위 취득 학생들을위한 필수 요건입니다. 학생 건강 보험 사무소
(Student Health Insurance office)는 학생들이 건강 관리 요구 사항에 맞는 적절한 보험을 선택할 수 있도록 도와줍니다.
​
다음을 통해 보험 요구 사항을 충족시킬 수 있습니다.
​
NU-SHIP 등록 확인
​
Northwestern의 보험 적용 요건을 충족하는 대체 보험을 확정함으로써 등록을 포기합니다
.
노스 웨스턴의 보험 요건 또는 연간 NU-SHIP 확인 / 면제 절차와 관련된 질문은 학생 건강 보험 사무소에 문의하십시오.
대체 보험 계획에 필적하는 보상 요건; NU-SHIP 플랜 혜택; 또는 온라인 지원 범위 선택 양식 작성에 대한 도움을 받으십시오.
​
전화 - Evanston 캠퍼스 : 847.491.3621; 시카고 캠퍼스 : 312.503.1242
​
이메일 - student.insurance@northwestern.edu
​
웹 사이트 - http://www.northwestern.edu/student-insurance/
웨이버 사이트
---